How to run an NPS Survey using HubSpot Service Hub Professional
26 Apr, 2023
|
2 MIN READ
|
Matt Freestone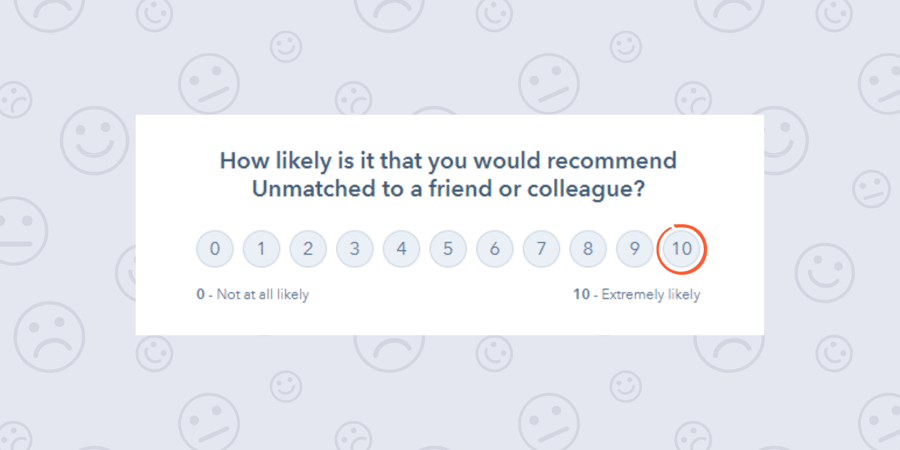 Customer feedback is essential to any business. It helps you understand what your customers want and need, and it can help you improve your services. One way to collect customer feedback is through Net Promoter Score (NPS) surveys. NPS surveys are simple questionnaires that ask customers how likely they are to recommend your company to others.
If you're looking for a way to run NPS surveys using HubSpot Service Hub Professional, you've come to the right place. In this blog post, we'll show you how to create and send NPS surveys using Service Hub Professional.

Take me straight to the guide!
How is NPS calculated?
NPS is calculated using a simple formula: NPS = (% of Promoters) - (% of Detractors)
Promoters are customers who answer 9 or 10 on the NPS scale. Detractors are customers who answer 0 to 6 on the NPS scale. Passives are customers who answer 7 or 8 on the NPS scale.
Here's an example of how the NPS formula would work in practice:
Let's say you sent an NPS survey to 100 customers. 30 of them were Promoters, 60 of them were Passives, and 10 of them were Detractors.
NPS = (% of Promoters) - (% of Detractors)
NPS = (30/100) - (10/100)
NPS = 0.3 - 0.1
NPS = 20
NPS can range from -100 (all detractors) to 100 (all promoters). The average NPS score is 0, so getting above that is your goal!
How can HubSpot help you run an NPS Survey?
HubSpot's Service Hub Professional has everything you need to run an NPS survey. With Service Hub Professional, you can create and send surveys, view results in real-time, and even segment your results by customer type.
Not only that, but Service Hub Professional also comes with a number of other features that can help you improve your customer service. These features include ticketing, knowledge management, live chat, and more. Ultimately, Service Hub helps you service customers even better.

How to setup your NPS survey in HubSpot
Now that we've gone over what HubSpot Service Hub Professional is and how it can help you, let's take a look at how to actually create and send your NPS surveys.
The benefit of tying your NPS survey into your CRM
By utilising Service Hub to conduct your NPS survey, the results of this survey are then stored on that contact. This means you can filter your contacts by who's a promoter, detractor, or passive. This is incredibly powerful in CRM-powered marketing campaigns, for example, you could exclude anyone who is a recent detractor from your sales emails to let them cool off whilst an Account Manager reaches out to them.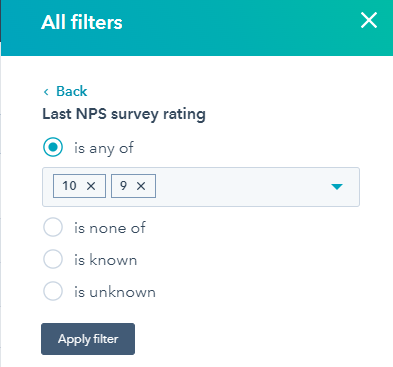 Is NPS right for your company?
Only conduct an NPS survey if you plan on following up the feedback. A survey that appears meaningless to your customers is worse than no surveys at all. So first, make sure you intend to follow up the responses, and secondly make sure you plan to enact the feedback you receive into your business.
Related post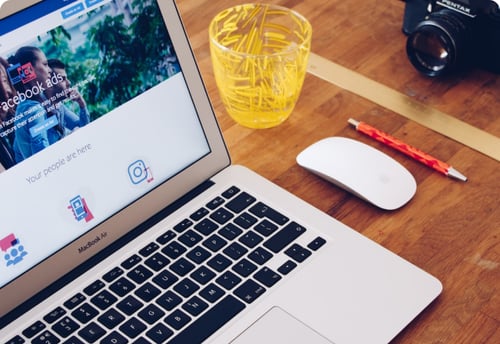 Marketing Hub Starter is under £50 a month and Marketing Hub Professional is around £850 per month....