Unless you've been living under a rock the last few weeks, you'll have noticed that HubSpot have updated Service Hub.
Not with a small update... with an absolutely feature-packed update to please your entire customer support team!
Here's a quick overview of the new HubSpot Service Hub features for 2022:
Custom Views in the Conversations Inbox
Conversations Inbox update for the HubSpot iOS app
Inbound Calling (in beta) to track calls even better
Post-chat feedback, built into the Live Chat system
Service Level Agreements with granular reporting and analytics
Fully functional Customer Ticket Portal
Custom Surveys
Now that's a chunky update, but let's dig a little deeper.
How does Service Hub improve customer experience?
Service Hub has been built to delight customers by reducing wait times and providing channels to enable immediate customer responses.
Nearly 60% of customers feel that long holds and wait times are really frustrating and negatively impact the customer experience. Combine that with the fact that 90% of customers rate an 'immediate response' as 'important' or 'very important' when they have a service question, means that providing a great customer experience is going to hugely benefit your business.
Features available in HubSpot Service Starter enable your team to engage customers quickly and easily. Live chat, ticket pipelines, and conversation routing provide the basic level of features for making supporting customers easy.
Service Hub helps your business get connected to your customers even better, providing an authentic experience every time. You can use Snippets, Custom Surveys, and Sequences to build relationships with customers and ensure they never feel left behind on their journey with your business.
Investing in looking after your current customers pays dividends, literally; a new customer is 5-25x more expensive to get than keeping an existing one.
Why self-service is important for customers in 2022
Customers want to solve problems by themselves, and HubSpot Service Hub enables you to empower your customers to do that. With 69% of consumers trying to resolve their problem by themselves before reaching out to support, it makes sense to offer resource that enable self-service.
With Service Hub Professional, you can build a HubSpot Knowledge Base that aims to answer all of your customers' key questions. You can also go a step further by implementing a Customer Portal within HubSpot too, enabling customers to track their support tickets with ease.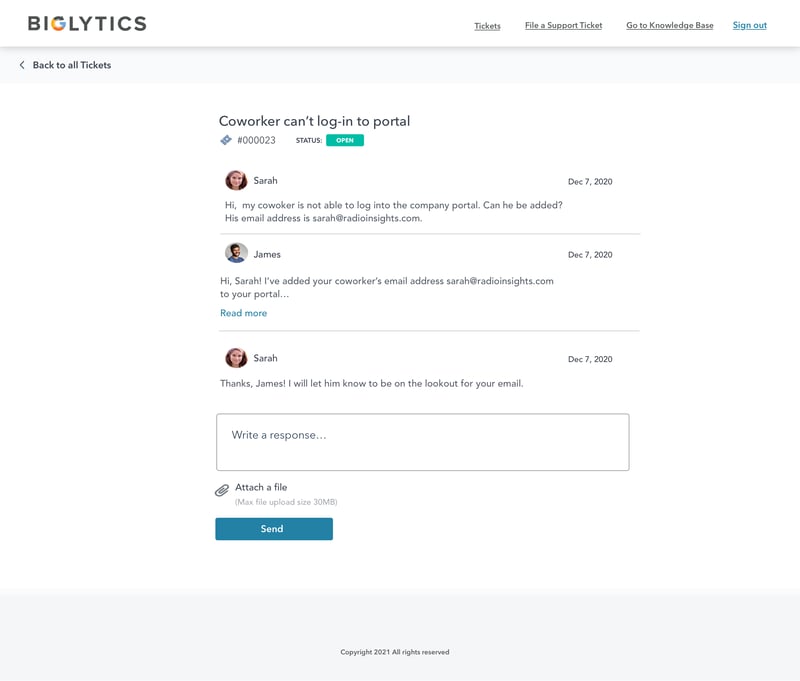 Service Hub and Marketing Hub: better when united
Service Hub and Marketing Hub go hand-in-hand, as all (good) marketers know that a happy customers attracts more new customers than an unhappy customer.
Feedback Surveys and Custom Surveys should form part of any solid engagement strategy with current customers. The responses from these can be used to shape marketing activity and improve lead generation.
For example, you could begin an upsell marketing email sequence based off of a positive feedback survey! This would all be done by Workflows, making your flywheel spin faster and faster and enabling a true CRM-powered marketing approach.
Marketers can also use the Knowledge Base to great effect, whether that's for SEO benefits or product proof-points during the buyer journey. This is only possible with Service Hub.
A good example of using Knowledge Base in your lead-gen strategy would be using Knowledge Base page views in Lead Scoring. Someone who is looking at Knowledge Base articles about the product are much deeper into the buyer journey and these leads are ripe to be passed to Sales for conversion.
Build customer advocacy using Custom Surveys
Everyone likes being asked their opinion, and Custom Surveys allow you to do just that. By using a Custom Survey and asking your customers questions on what actually matters to them and your business, you can build customer advocacy amongst your customer base.
By using Service Hub to do this, you'll start to build an authentic and connect approach that directly solves customer problems through listening.
HubSpot's new Custom Surveys feature allows you to leverage the responses in these surveys in Workflows as well. For example, if someone gave good feedback on a particular feature in your product, you could follow up with a Sales Sequence about a complimentary feature that may help them.
HubSpot Service Hub vs. ZenDesk
Now that HubSpot has significantly upgraded Service Hub, it's a no-brainer to switch from ZenDesk to HubSpot Service Hub. Here's a quick ZenDesk vs. HubSpot comparison:
ZenDesk's CRM is cobbled together, not crafted from scratch like HubSpot.
ZenDesk is focused on support agents, whereas HubSpot is much more focused on improving the customer experience through more powerful tools.
ZenDesk is more customisable in the higher tiers, however it doesn't provide the visibility into sales and marketing that HubSpot does.
HubSpot has more application integrations for the whole business, whereas ZenDesk is limited mainly to integrations with Support/Service.
HubSpot has unlimited free users, whereas ZenDesk is limited in that area.
For businesses that want a hollistic platform that keeps customers connected via an authentic experience, HubSpot is the clear choice. SoftwareReviews also recogized HubSpot as the leader in its 2021 Customer Service Management Report.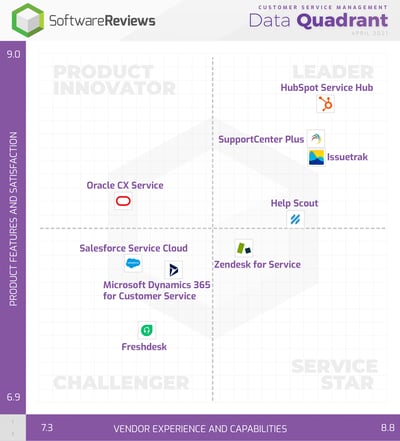 Are there any new HubSpot Free Tools in this update?
There have not been any extra features included in the HubSpot free tier. However, there is still a substantial amount of free customer service tools available with HubSpot:
Free live chat
Free chat bots
Free Facebook Messenger integration
Free Ticket Pipelines
Free Mobile Inbox on Android & iOS
Free Shared Inbox
Overall, HubSpot offers a lot on the free tier for those looking to get started with HubSpot.
Summary
HubSpot Service Hub has had a huge update, and it's now a real contender for professional customer experience software. The whole platform is geared around a transparent customer journey and a customer experience that is aligned with what modern consumers want.
Ultimately, if you want to improve customer experience, you need to give HubSpot a go and this new update in 2022 is the best one yet.
If you do need a hand getting started with HubSpot, Unmatched can help. Simply get in touch with us and we'll get back to you in just a few hours.
Related post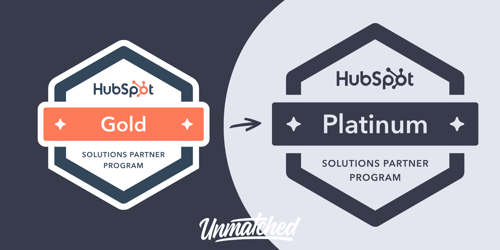 Today, Unmatched announced that it has reached the platinum tier of HubSpot's Solutions Partner...